Our campus is divided into 3 zones: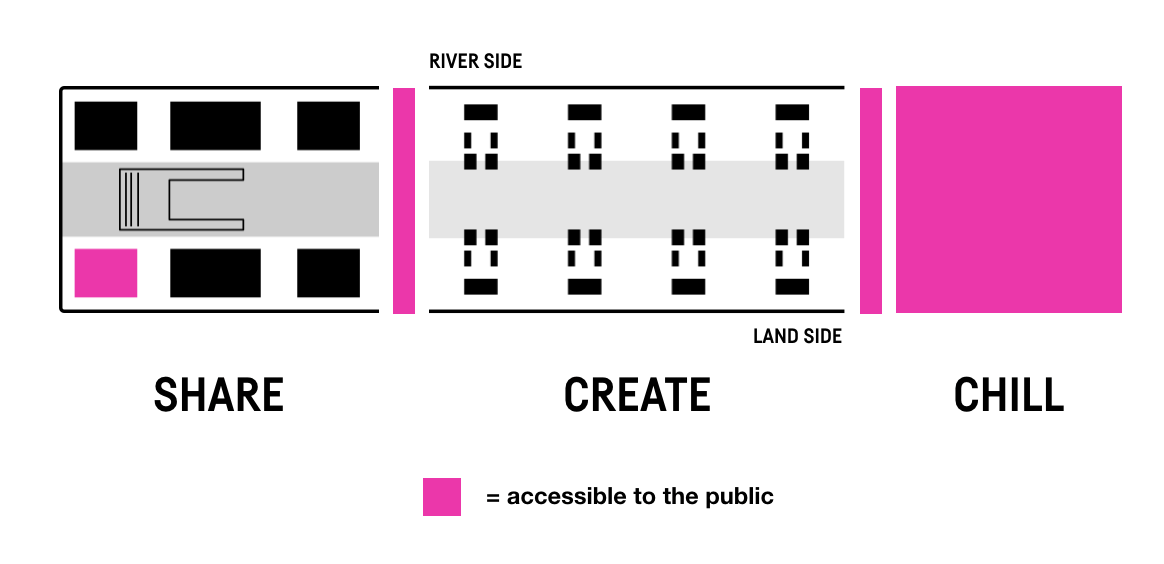 1/ SHARE Zone
This is the zone at the front of the building where the main entrance is. The SHARE Zone is where we have gathered all the ressources for our entrepreneurs including:
Mentorship Offices run by Apple, AWS, Google, OVH and investors

La French Tech Central, which gathers 30+ public administrations
Events
You'll also find private meeting rooms and several event spaces (including a 350-person auditorium).
The SHARE Zone is semi-accessible to the public, meaning that visitors can only enter if invited by a resident or registered for an event/visit.
2/ CREATE Zone
Also known as the startup zone. This area is only accessible to resident startups (not open-to-public). It is a large open-space area with 3000 desks that welcome 30+ startup programs. For a full list of programs on campus, please visit our website.
3/ CHILL Zone
This amazing space is open to the public during lunch and dinner hours, and it's a true paradise for foodies! With 5 kitchens offering a diverse range of Italian food, 2 bars serving up refreshing beverages, and a charming café, you're in for a treat.
La Felicità can accommodate up to 1000 people, so you can come along with your friends, family, or colleagues and have a great time together.
For those seeking a unique event experience, there are two event spaces available: the Mezzanine Amazonia and the Mezzanine Biblioteca. These areas add an extra touch of magic to any gathering.
Two public walkthroughs are also located on campus:
Passage Louise between the SHARE and CREATE zones: you will be able to find a post office in this space
Passage Anatole between the CREATE and CHILL zones: this is where you can find the entrance to La Felicità.
Want to take a look at STATION F? Book or sign up to a campus tour via our website!