Everyone who has credentials in HAL can connect to this spot; others can connect to the wifi named "STATION F - Guest" with password : 'guests@stationf'.
If you are on Windows 8 or 10 and you still can't connect to wifi with these simple steps (click STATION F wifi, enter credentials and connect), try the Windows 7 tutorial.
This list of issues will help you to find a solution corresponding to your specific problem :
1. You don't have your credentials :
  - Check in your mailbox if you have received them, subject : 'Important: STATION F - get your Wifi and join Slack''
  - If you haven't received or you have forgotten your password, you can reset it on the page HAL WIFI.
    You just need to click on 'RESET MY PASSWORD'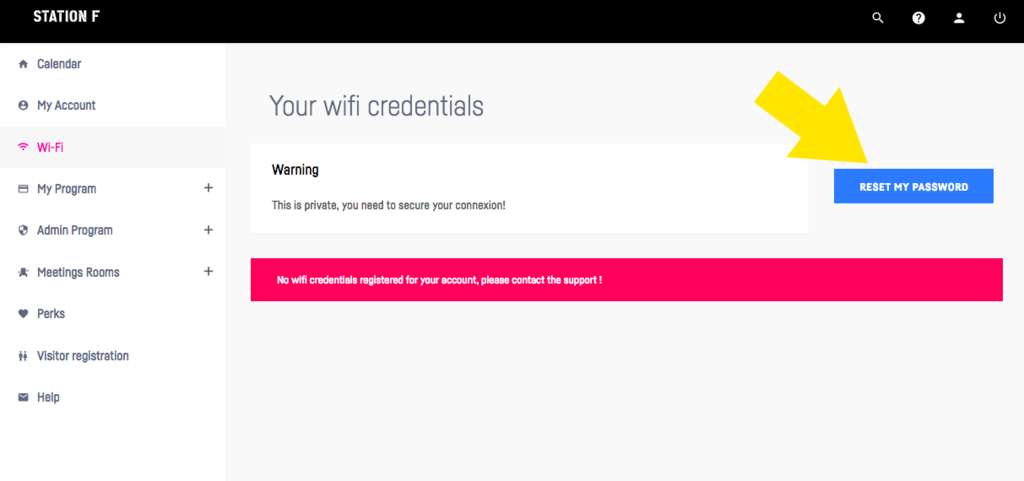 It will be active 5 minutes after the resetting.
2. You can't connect to STATION F wifi.
  - Check if connection is unavailable on all yours devices (phone, laptop, ..)
3. You still can't connect to wifi.
Make a wifi ticket on 'IT / Internet / Audio and Video' tab with :
  - Operating System name (Windows 7, OSX sierra, Android, Ubuntu, ...)
  - A screen-shot of your issue (important for us)